Ciralight Smart Skylights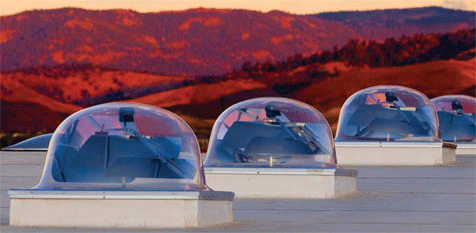 Ciralight virtually eliminates the need for electric lighting during daytime hours.
Ciralight Global, Inc. with its headquarters in Irvine, California, was created to bring natural solar daylighting indoors using our patented "Intelligent skylight" concept that utilizes a GPS unit that tracks the sun and a lens and mirror design that tracks, captures and magnifies the natural light produced from the sun at a level of intensity and clarity that makes electric lighting unnecessary during daylight hours.
The result is a FREE green natural light source during daylight hours, which will lower utility bills, save energy, improve customer and employee satisfaction and enhanced performance in schools, factories and businesses that use the system.
Ciralight Global, Inc. is a visionary company and a leader in the "Green" Construction Products field with this unique and ground-breaking natural lighting product. Bringing safer, cheaper, usable daylighting into warehouses, showrooms, retail stores, schools, manufacturing facilities and office buildings is an idea that's time has come.
View More Ciralight Smart Skylight Videos
Call us today to learn how you can incorporate our efficient, cost saving natural source of light into your business. Ciralight Global's SunTracker Daylighting systems enable you to light your building with a FREE source of energy "the Sun" - and to turn your electrical powered lights off during daytime hours allowing you to conserve energy, save money and meet today's energy efficiency standards for more efficient buildings while taking advantage of local, state and federal tax incentives and credits.
Let one of our Daylighting advisors assess your potential savings with our powerful ROI calculator that is proprietary to Ciralight Global, Inc. With available tax credits and utility cost savings the payback period is short. See for yourself the benefits a day lit facility can provide to you, your employees, your customers, your students, and to your bottom line.